Fraport Greece and Dufry's subsidiary "Hellenic Duty Free Shops" signed a 30 years contract covering 14 Greek airports
Dufry will have the exclusivity for airside retail activities at the airports and is committed to deliver outstanding service levels for Greek and international passengers alike. 

Dufry, through its subsidiary Hellenic Duty Free Shops, signed an agreement with Fraport Greece for the exclusive operation of airside retail activities at 14 Greek airports. The 30-year agreement also foresees an important expansion of the retail space resulting in more than a doubling of the current shop space of 5,000 m2 to over 12,000 m2. 

The agreement will take effect upon commencement date of the concession agreement between the Greek State and Fraport Greece, which has been awarded the operation of several Greek airports including Thessaloniki (SKG), Aktion (PVK), Mykonos (JMK) Zakynthos (ZTH), Kavala (KVA), Corfu (CFU), Kefalonia (EFL), Kos (KGS), Lesvos (MJT), Rhodes (RHO), Samos (SMI), Santorini (JTR), Skiathos (JSI) and Chania (CHQ). 

With the agreement, Hellenic Duty Free Shops continues seamlessly its operations in the 14 airports for another 30 years. The agreement also adds a considerable floor space landside. The expansion and improvement of the retail spaces is set to start in 2017 and completed in 2021. 
Mr. George Vilos, Executive Director of Commercial & Business Development of Fraport Greece, on the occasion of the signing of the contract, stated: "The 14 airports are gateways to some of the most important Greek and world famous destinations. Fraport Greece's investment plan for the development of the 14 airports includes a significant increase in commercial areas, as well as the improvement of the passengers' overall travel experience. Thus, the airports will respond to the expected increase in traffic and offer an experience equivalent to the value and image of the destinations. Towards achieving these goals, the Hellenic Duty Free Shops are a valuable partner." 

Mr. Giorgos Velentzas, Managing Director of Hellenic Duty Free Shops, stated: "We are thrilled to partner with Fraport Greece on their goal to bring customer  service at 14 airports to another level. The yearlong presence of Hellenic Duty Free Shops in the Greek travel retail sector and our experience of the needs of the travelers in our country, combined with the know-how of DUFRY, make us the ideal partners for Fraport Greece and their plans to upgrade the facilities and the commercial spaces of the airports. We are jointly planning the development of the airport's retail areas aiming at significantly expand our shops to provide travelers with a completely new shopping and service experience. By introducing state-of-the-art retail concepts and shop designs we will increase the visibility of Greek products and provide a distinctive sense of place thus promoting the Greek culture throughout the world."  
Julian Diaz, CEO Dufry, commented: "I am very proud to announce this important extension agreement in one of the World's most important tourist destinations and I would like to thank Fraport Greece for the trust in Dufry. This agreement fosters our longstanding cooperation and excellent relationship with Fraport, which spans across successful partnerships and operations in many countries around the globe."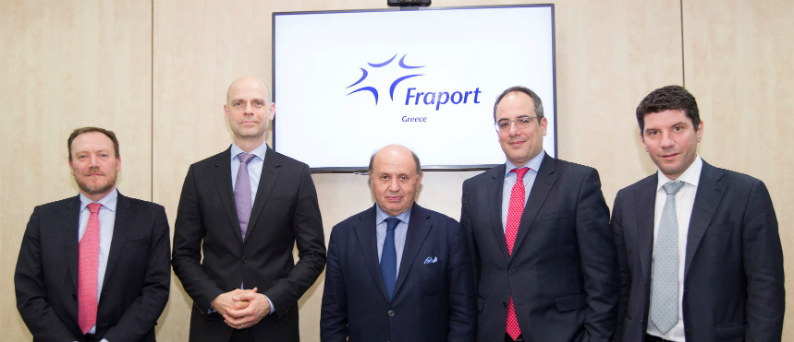 Left to right: Alberto Iglesias Deputy CEO HDFS S.A., Alexander Zinell CEO Fraport Greece, Giorgos Velentzas
CEO HDFS S.A., George Vilos Executive Director of Commercial & Business Development Fraport Greece,
Vangelis Baltas CFO Fraport Greece