Fraport Greece presents €27m development plans for Kefalonia Airport
In a fruitful dialogue, company executives discussed with the local community the upgrade and expansion of the airport and the prospects for tourism growth.
31.05.2018
Argostoli – As part of a series of events hosted by Fraport Greece in the 14 areas where the airports it manages are located, company executives visited the island and city of Kefalonia.
In an atmosphere of mutual co-operation, Fraport Greece presented to more than 70 stakeholders and local government representatives its €27 million plans for the overhaul and upgrade of the airport.
More specifically, as announced, the company will proceed to the construction of a new terminal, the reorganisation of the apron area and the refurbishment of the airside pavement.

At the same time, the check-in stations will increase by 71% (from 7 to 12), the total number of gates by 100% (from 3 to 6) and the airport security and control points will be doubled (from 2 to 4).
With the aim of developing close relations of trust and transparency with all stakeholders and the local community, Fraport Greece executives discussed the airports role to the tourist growth and prosperity of Kefalonia.
On the occasion of the event, Fraport Greece CEO Alexander Zinell said: "We are delighted to be here today in Kefalonia, a beautiful island that has the privilege of combining natural beauty with rich history and important cultural tradition. We are here to present the plans for the upgrade and overhaul of 'Anna Pollatou' airport, to discuss the infrastructure projects that will significantly increase the capacity and how they will turn the airport into a modern gateway for tourists from all over the world. Meanwhile, we are in the process of attracting more airlines and new services, with the first results being more than encouraging, reflecting the momentum and prospects of Kefalonia."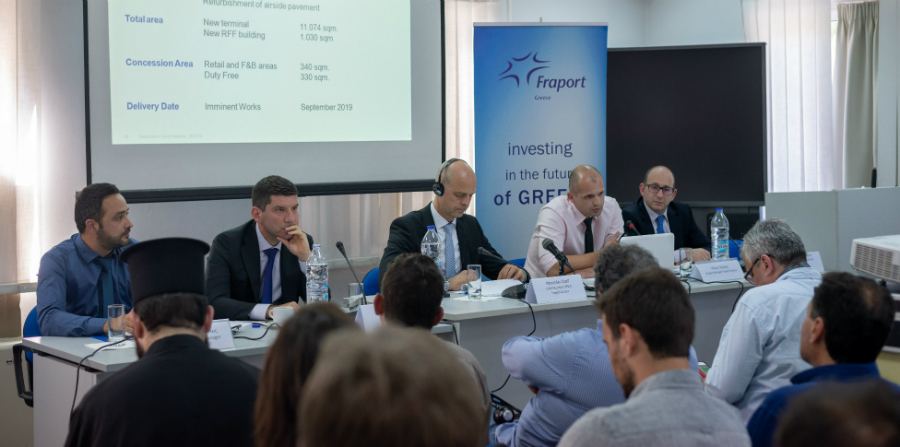 During the event: From the left side Pavlos Vasilopoulos, Acting Airport Manager Kefalonia Airport, Vangelis Baltas CFO Fraport Greece, Alexander Zinell CEO Fraport Greece, Ilias Tsonos Project Manager, Yannis Papazoglou, Corporate Communications Manager