Fraport Greece Presents Its Plans for Rhodes Airport
CEO Zinell: "Rhodes will soon have an airport to be proud of"
25.07.2017
Rhodes – On Thursday July 20th 2017, Fraport Greece held its latest open stakeholder engagement event on the famous tourist island of Rhodes. Fraport Greece's national tour will eventually take the company to each of the 14 airport regions, where the company has been operating the airports since April 11, 2017. This level of stakeholder engagement is unique and is a high priority for Fraport Greece 's management. Indeed, it highlights the strategy of transparent and close relations with a wide range of airport stakeholders ranging from representatives of local authorities and regional government, to the tourism and hospitality trade, as well as other airport partners. Along with presenting its future plans for Rhodes Airport, Fraport Greece held a very productive and open dialogue with attendees.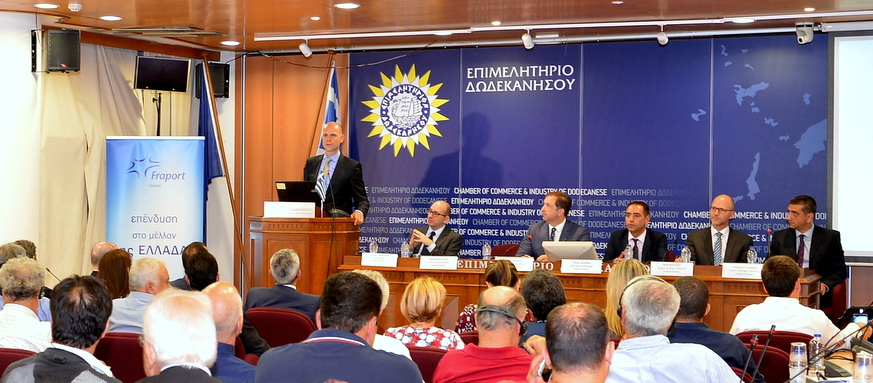 (left to right) Alexander Zinell – CEO Fraport Greece, Yannis Papazoglou – PR Manager Fraport Greece, Ian Matheson – COO Fraport Greece, Elias Skiadas – Airport Manager "Diagoras" Airport, Rolf Klitscher – Project Director Fraport Greece, Giorgos Ginalas – Project Manager Fraport Greece
Alexander Zinell, Fraport Greece chief executive officer (CEO), emphasized: "We feel lucky today to be here, in one of the most beautiful islands of Greece, a destination, renowned for its unique history and natural beauty. Nowadays "Diagoras" airport is incapable to facilitate Rhodes' development prospects. This is the reason for our visit today: to present our plans for developing and modernizing Rhodes Airport. Our goal is to create an airport with modern infrastructure and services that meet the needs of the local community and visitors from around the world. An airport's problems cannot disappear, simply by waving a magic wand. Major projects are needed, along with operational improvements. As part of our strategy, we have already implemented significant improvements in daily operations, by addressing key issues which have been hindering the airport for years. Large scale projects that will significantly change the look of the airport are set to commence after the end of the high season. As you can understand, if we had launched major projects this summer, the airport's capacity would have been reduced while passenger inconvenience would have been greatly increased. In the meantime, Rhodes is enjoying another excellent tourism year as underscored by airport passenger traffic. In 2016, Rhodes Airport had a robust traffic increase, rising by 7.9 percent or some 364,000 more passengers. And during the first six months of 2017, Rhodes Airport has been experiencing even stronger dynamic growth of 8.7 percent, or 136,000 additional passengers. But we need to be able to sustain this growth offering enhanced services and facilities. In particular, we must all work together to maintain this dynamic growth by further promoting the Rhodes destination – with Rhodes Airport as its international gateway. At the same time, we need to offer airport services worthy of the high expectations linked with the powerful Rhodes brand name."

The development plans for Rhodes Airport, presented by Fraport Greece, include the construction of a new fire station, refurbishment of the passenger terminal, and reorganizing the landside parking area. To improve the quality of services, significant improvements will be achieved by implementing a 13 percent increase in the number of check-in counters, a 71 percent increase in the number of security lanes, a 15 percent increase in the number of departure gates, a 25 percent increase in baggage reclaim belts, and a 29 percent increase in aircraft stands.