Fraport Greece presents the plans for Mytilene airport
Α. Ζinell: "Lesvos island will gain the position it deserves among the most popular Greek destinations"
02.11.2017
Mytilene – Fraport Greece on Wednesday 1st November, presented the plans for the development of Mytilene airport during an event that was attended by representatives of local authorities and local stakeholders. The event provided the opportunity for an open and productive dialogue for all the issues related to the airport's future and the tourism development of the island in general. Fraport Greece is implementing a series of events at the 14 regions that the airports serve to develop close contacts and relationships that are based on trust and transparency, with local stakeholders.
Alexander Zinell, Fraport Greece, stated: "Our presence in the island of Lesvos today is not a typical visit. We have committed to a productive and open dialogue with the local community and this is what we are here to do. The vital works at the 'Odysseas Elytis' airport, which will start immediately, will radically increase its capacity and upgrade the overall experience of passengers and visitors. The most important is that we invest in a new, modern terminal building, that will meet the needs of the residents and the expectations of Lesvos' visitors. Our goal is to contribute for Lesvos to gain the position it deserves among the most popular Greek destinations".
The plans presented by Fraport Greece include the construction of a new terminal, a new fire station, new Waste Water Treatment Plant and a new apron. The total size of the terminal will triple in comparison to todays reaching 7,185 m2. Significant interventions for the improvement of services will also be implemented, including: 29% increase in Check-in desks and 50% increase in security lanes.

Rendering of new airport terminal that will be constructed at Mytilene Airport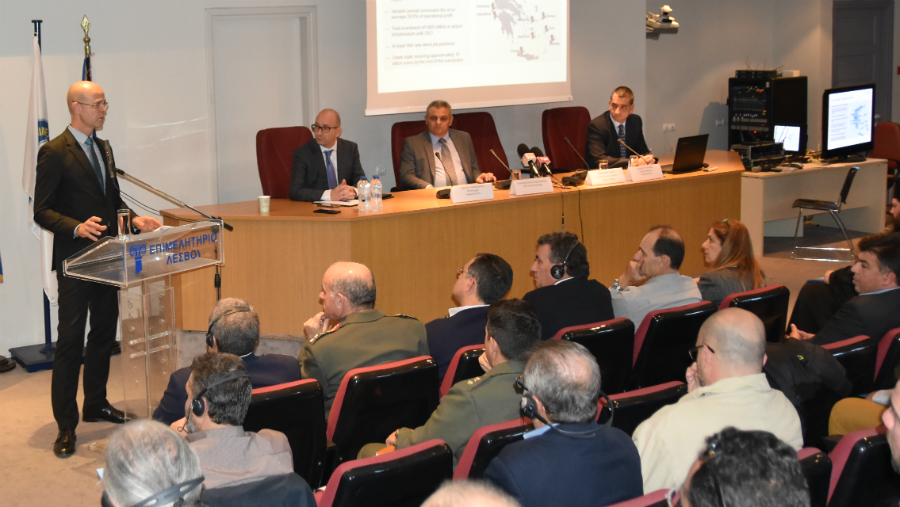 Event Snapshot (left to right): Alexander Zinell – CEO Fraport Greece, Yannis Papazoglou – PR Manager Fraport Greece, Konstantinos Lymtsioulis Airport Manager Mytilene Airport, George Ginalas Project Manager Fraport Greece