Fraport Greece wins a major distinction at the EMEA Finance's Project- Finance Awards 2017
Awarded the Best Transport Infrastructure deal in Central and Eastern Europe
20.06.2018
London – During the EMEA Finance's Project Finance Awards 2017, Fraport Greece won the award for the Best Transport Infrastructure deal in CEE.
For the successful completion of the project the sponsors of Fraport Greece, Fraport AG and Copelouzos Group invested 750 million euros equity and the partnership of leading financial institutions signed with Fraport Greece a long-term funding up to about 1 billion euros.
CEO Alexander Zinell and CFO Mr. Vangelis Baltas attended the ceremony which took place at "The Law Society" in London receiving the prestigious award.
Upon receiving the award Vangelis Baltas, Fraport Greece CFO commented: "Together with the 750 million euro equity injected by our shareholders, our partners from the financing sector supported us in realizing one of the most complex projects in the industry while sending a strong message of support to the Greek Economy and Fraport Greece. In order for the vision of the management of the 14 airports to be realized it also took thousands of work hours and high level collaboration between the sponsors, the financing institutions and all of as at Fraport Greece. We would like to thank our partners for their efforts, contribution and trust. Today's award is another affirmation of how the mechanics of financing this project constitute a best practice. We would like to thank our partners for their support and we look forward in welcoming passengers from all over the world to 14 professionally managed and modern airports."
The publisher of EMEA Finance magazine, Christopher Moore, said: "It is difficult to express just how important and significant the 40-year funding of Fraport Greece's concession of 14 Greek regional airports is to not only the development of these essential infrastructure, but also to the larger Greek economy. This €1bn transaction represents one of Greece's largest direct foreign investments made recent years and is a bell-weather deal for future transactions of its kind. The consortium of banks supporting the Best transport infrastructure deal in the CEE region includes Alpha Bank, Black Sea Trade and Development Bank, EIB, EBRD and the IFC".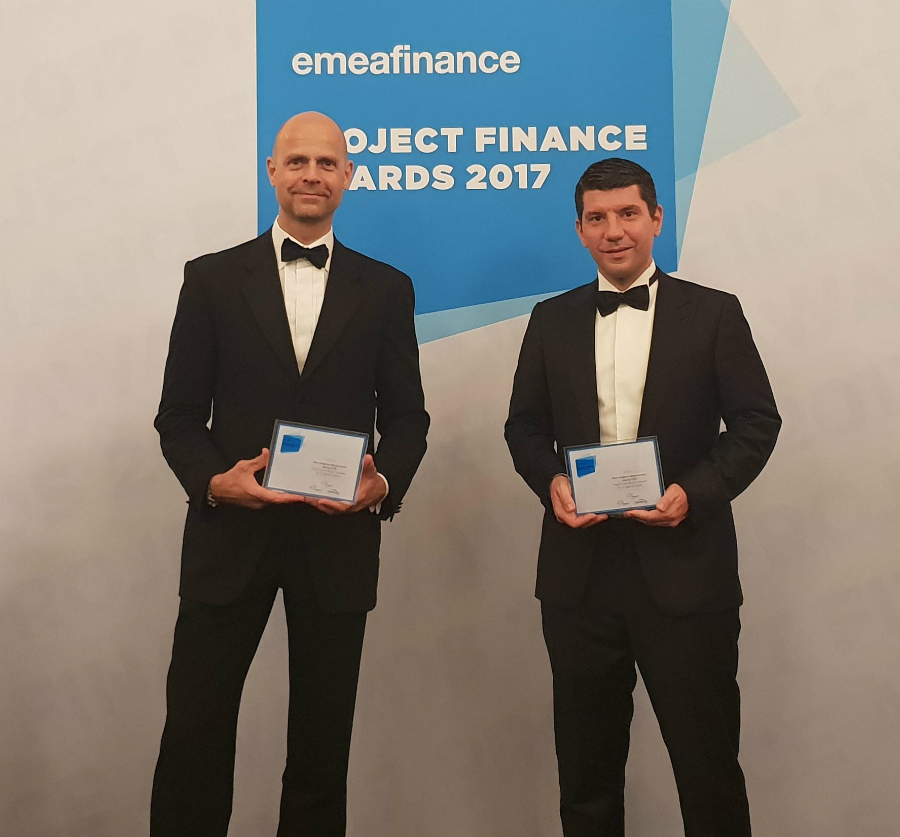 (Left to Right) Fraport Greece's CEO Alexander Zinell and CFO Vangelis Baltas at the award event in London