INCREDIBLE GREECE: A brand new magazine by Fraport Greece
This summer, Fraport Greece teams up with Dragounis Publications to launch a brand new, standalone magazine devoted to Greece's 14 regional airports.
31.05.2021
Incredible Greece, a quality publication with high demands on its style and aesthetics, will be welcoming millions of travelers, using a fresh experiential approach to share everything they need to know about their destination.
The land, the people and their customs, hospitality, local gastronomy, architecture and style, creations, history, tradition and culture, lifestyle and entertainment; the magazine will be featuring everything that makes up the Greek "experience", engaging the reader in a sensuous dialogue, an ode to the beauty of our majestic land.
The magazine aims to reveal Greece's hidden gems, select experiences travelers need to live, in order to transform their trip into an unforgettable memory. After all, "Greece is a state of mind" and this publication intends to help each visitor realize that, by turning a simple reading into a guide to valuable travel experiences.
In addition a digital version will be complementing the print publication, providing more information, pictures and videos, as well as more destination-specific travel themes and tips. This way, the reader will be able to use their cell or tablet to scan the embedded QR code, bringing this unique travelling companion into the digital world!
Incredible Greece, a high-end, large-format publication, will pique the readers' eyes with its stunning photographs and its smart writing. One magazine for each destination, a bespoke warm "welcome" for each traveler, a useful guide for their journey and a valuable memory to carry back home.
As of this coming June, Incredible Greece will be welcoming all visitors travelling to any of Fraport's Greece 14 regional airports: Thessaloniki, Rhodes, Chania, Kos, Santorini, Mykonos, Corfu, Kefalonia, Zakynthos, Aktio, Samos, Lesvos and Kavala will all offer a unique communication experience to everyone travelling to our one and only Greece.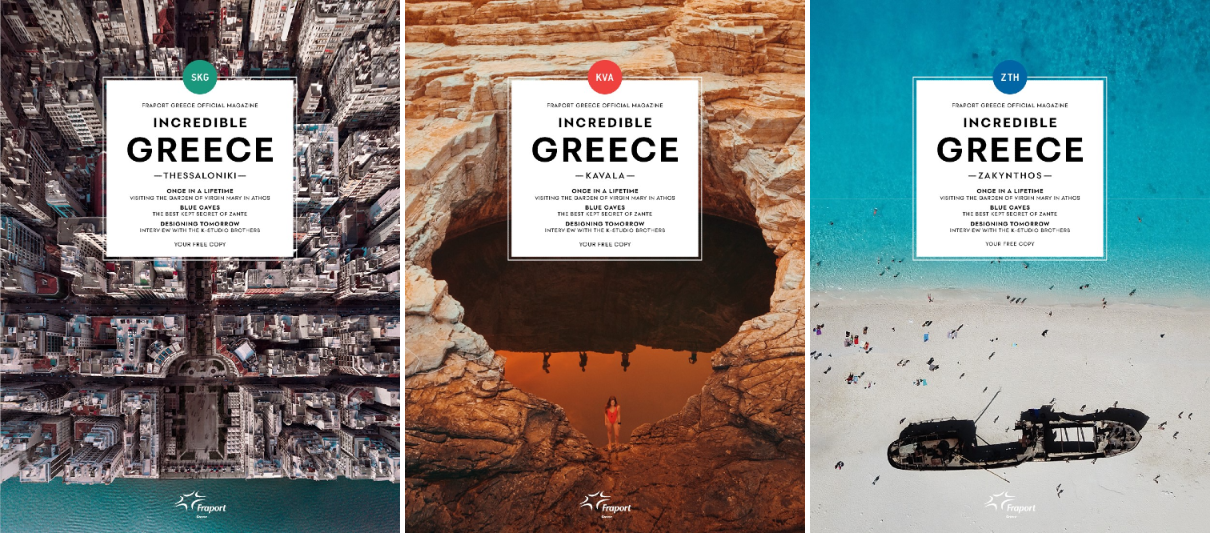 Incredible Greece cover pages (indicative)